Second Battalion, 156th Infantry (Mechanized),
5th Mechanized Infantry Division
(Krieg's old home away from home)
The Opposing Forces [OPFOR] soldiers are assigned to Fort Irwin and come to the battlefield with an impressive résumé. Dressed in former Soviet Union-style uniforms, they are hand-picked by the Army and comprise some of the best infantrymen, tankers, and field artillerymen anywhere.
Since its activation, the National Training Center has witnessed many firsts. The first unit to train against the Opposing Force at the NTC were from 1st Brigade, 1st Infantry Division in January 1982. Infantry and engineer units first augmented the Opposing Force in 1984. June 1984 saw the first use of M1 Abrams tanks and M2 Bradley fighting vehicles on the National Training Center battle field. The first armored cavalry squadron rotation occurred in November 1984. Units from the 101st Airborne Division participated in the first light force rotation in March 1985. The 197th Infantry Brigade participated in the first extended rotation with brigade operations in June 1985. The first urban terrain mission was conducted at the National Training Center Pioneer Training Facility in December 1993.
2/156th Inf (M) vacates staging area and maneuvers to initial fighting position
The National Training Center and Fort Irwin continue to serve as the Army's premier training center. Officials from many countries have visited the National Training Center and use it as a model to build their own training centers. As in the past, Fort Irwin pits soldiers against a harsh environment, but now adds a determined and formidable opposing force. As during World War II, Korea, Vietnam, and Desert Storm, the National Training Center and Fort Irwin continue to train units to fight and win on the battle field.
The Operations Group trains Army combat units to a demanding standard, using realistic scenarios and provides meaningful feedback to soldiers, leaders and staffs at every level, platoon to brigade. Additionally, provides information to units, agencies and training institutions to improve the force. Observer Controllers provide 600 plus After Action Reviews every rotation. The overall unit is approximately 700 soldiers strong and falls under TRADOC. Teams include: Broncos, Cobras, Dragons, Eagles, Goldminers, Lizards, Lynx, Roadrunners, Scorpions, Sidewinders, Tarantulas, Vultures, Werewolves, and Wranglers. Each team provides expertise in a different area. For example, the Scorpions cover mechanized infantry, the Dragons live fire.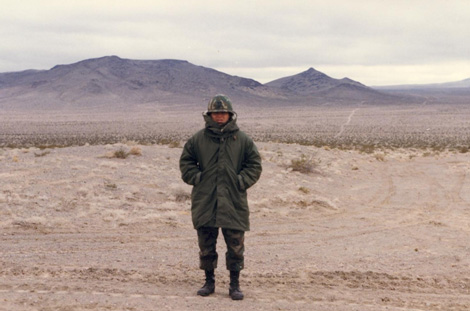 Krieg at National Training Center - Notice the Steel Pot (old Army)
January/February timeframe

United States Army Garrison consists of Headquarters and Headquarters Company, Military Police Company, Directorate of Information Management, Directorate of Public Works, the Civilian Personnel Advisory Center, Directorate of Community Activities, and the Provost Marshall's Office. HQ & HQ Company consists of 255 soldiers from the above mentioned directorates plus those from the G-1, G-2, G-3, DOC, IG, SJA, PAO, Chapel and the Command Group.
The NTC Support Battalion commands TOE and TDA combat support, combat support, and combat service support units assigned to the NTC, provides personnel for operational support of the activities of Fort Irwin, and supervises activities and requirements not within the purview of the installation staff directorates.
Soldiers of the 2/156th Inf (M) "Goodfellas"
The 577th Maintenance Company performs organizational maintenance for Operations Group vehicles and direct support maintenance of the pre-positioned equipment fleet and all other units on the NTC, less the 11th Armored Cavalry Regiment. The 31st Maintenance Company performs general support maintenance and backup direct support maintenance for all units on the NTC. The 247th Medical Detachment (Helicopter Ambulance) provides medical evacuation and transit care of emergency medical patients originating from the Fort Irwin reservation. NTC Aviation Company supports air operations at the installation, to include air assault, general and OPFOR aviation support. Aircraft used are standards UH-1s, and UH-1s visually modified to represent Soviet aircraft. The unit is based at Barstow/Daggett Army Airfield, which is located 42 miles from Fort Irwin.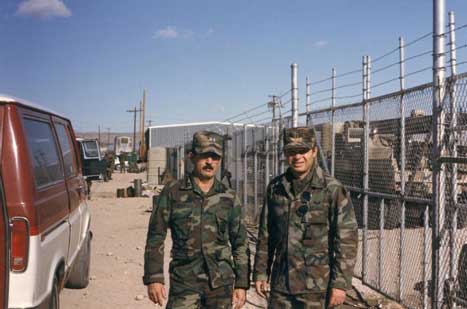 Krieg (R) with fellow officer, Captain Jimmie Hagle
The 759th Ordnance Detachment provides explosive ordnance disposal support to the NTC, Fort Irwin, local agencies and civil defense agencies in eight counties of Southern California and Nevada.
C DET, 203rd MI is an INSCOM unit that provides organizational support for vehicles, weapons and associated foreign materiel used at the NTC through depot level maintenance, repair and parts. The unit also conducts foreign weapons classes/ranges, driving courses on foreign vehicles and has mobile training teams.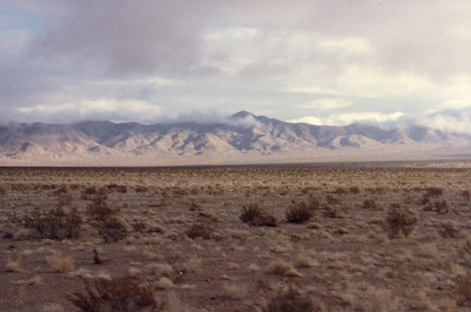 Another Panoramic Vista of NTC
RAVENS AIR WARRIORS U.S. AIR FORCE (Det 6, 57th WG Det) - Provides operation control and logistic support for units deployed to Air Combat exercises, training Air Force and Army personnel through 4,000 fighter aircraft sorties annually in joint operations at the NTC. The unit oversees planning, employment and feedback for combined air operations. It also provides USAF liaison to the NTC Commanding General and staff.
http://www.globalsecurity.org/military/agency/army/ntc.htm
http://unitpages.military.com/unitpages/unit.do?id=100004&ESRC=unitpages.kw
Photos by Sturmen Krieg