Books-a-Million of Pensacola, Florida
sponsors an afternoon with Sturmen Krieg,
local author and writer of
Ignoble-The Dark Ages Trilogy
The Dark Ages Trilogy, first conceived as a single story, broadened, considerably, when Krieg [a.k.a. Dr. James Fischer] began to organize his notes for the intended one-book action thriller. He has now committed himself to a three-book escapade that he, as most writers realize, cannot put aside.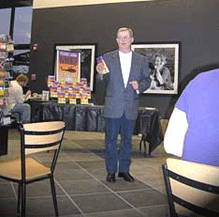 Photo by Marsha Baumert
Krieg delights listeners as he speaks of the intrigue that encompassed a drug interdiction operation conducted in Columbia.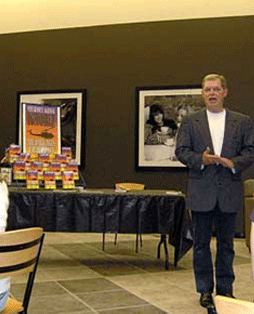 Photo by Marsha Baumert